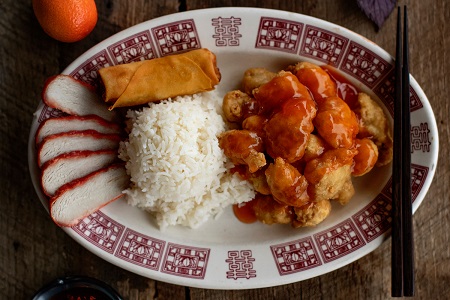 Beaverton's Best Chinese Food Catering Service
Looking for the best Chinese catering Beaverton, OR, has to offer? For over 30 years, Happy Panda has been a staple of Beaverton, catering events with delicious plates of Chinese cuisine near the corner of Walker Road and 185th.
Our Chinese food is characterized by homemade recipes, great cooks and quick delivery, making us the perfect solution for Beavertonians in search of something approachable yet full of flavor. Our menu even hosts specialized curries and stir-fried rice noodle dishes. We can adapt to vegetarian and gluten-free dietary restrictions too. Let Happy Panda turn you into a Happy Fanda.
---
An Exciting Chinese Catering Menu
Over the years, Happy Panda has expanded its menu to cater to various savors and seasonings. From the explosive tastes of Szechuan food to the saucy flavors of Thai curries to the chewy texture of yakisoba noodle plates, all are sure to make you smile. Our meals and appetizers are made fresh for events of all sizes. From corporate functions to family reunions, our Chinese catering menu items will have your guests coming back for more mouthfuls of food.
Take a look at some of our signature party pleasers:
Crab Cream Cheese Wontons: crunchy wontons stuffed with delectable crab meat and cream cheese
Barbecue Pork: tender slices of pork served with spicy mustard and sweet and sour sauce
Fried Prawns: deep-fried prawns cooked in oil and made to serve with dipping sauces
Spring Rolls: a classic delicacy of vegetables deep-fried and served the Chinese style
Potstickers: crescent-shaped dumplings filled with pork and vegetables and then steamed or fried
Panda Fried Dumplings: a healthy helping of delicious deep-fried shrimp and pork dumplings
---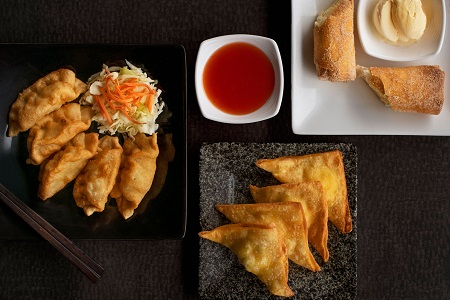 Event Catering Services Ready for Any Party
Happy Panda Chinese Catering is the perfect location to host your next event. From birthdays to weddings, our restaurant can host your party with the premier Chinese catering in Beaverton, OR. We offer various menu options to choose from, so you can find the ideal fit for your event. We offer custom packages and combination plates to ensure you get precisely what you want.
Combination plates include a side of spring roll or potstickers, barbecue pork and steamed rice with the option to upgrade to brown or egg fried rice for a small additional charge. Review our ordering menu for our "pre-set" catering menu. Some of our most popular combination plates include:
Cashew Nut Chicken: white meat chicken, sauteed with cashew nuts and steeped in the sauce
General Tso's Chicken: tender fried chicken breast, covered in Szechuan sauce and served to your choice of spiciness
Sweet and Sour Chicken: tender fried shrimp sauteed in a tangy sweet and sour sauce
Sweet and Sour Pork: tender fried pork sauteed in a tangy, sweet and sour sauce
Want to make a custom order? Call us today for a customized catering package, and we will be happy to serve the needs of your next event.
We Offer Office Catering Services, Too!
Whether you're looking for breakfast catering, lunch catering or dinner catering, Happy Panda has your next office event covered. We've catered events at offices, hospitals, schools and more with customized orders and lunch-sized portions that will leave every team member full! When you cater your event with Happy Panda, everyone becomes a Happy Fanda!
---
Best Chinese Catering Near Me
Happy Panda is proud to provide the best Chinese catering in Beaverton for various events. It's not just about appetizers and combination plates at Happy Panda. We also serve delicious desserts, including our irresistible mango sweet rice and almond cookies.
Whether you're looking for an excellent Chinese restaurant for your next family dinner or quick lunch at the office, let Happy Panda transform your next meal! In addition to dine-in, we also offer Chinese food delivery and take-out options for orders within a 5-6mile radius. For orders between 5-6 miles there is a minimum $70.
Our delivery drivers are quick and efficient, so you can expect your food for brunch, lunch or dinner to arrive hot and fresh within 30 minutes or less and our restaurant team is ready to assist you with large custom catering orders. Call or contact us today today to see how we can help.